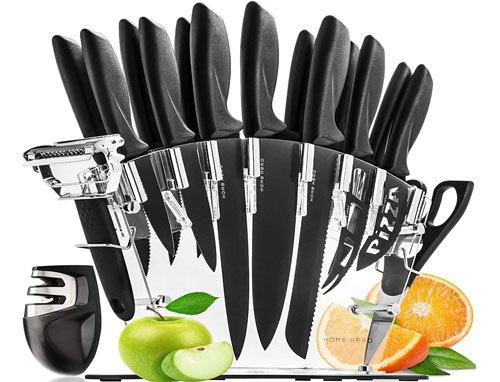 Fullscreen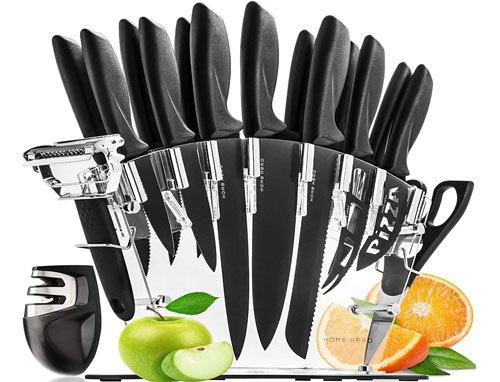 Stainless Steel Knife Set
In Stock
$49.99
Use with the recommended fixture, such as a wire clamp lamp. Not to be used with dimmers or rheostats.
Description
ALL-IN-ONE COMPLETE SET – A specialized set of kitchen knives for all your chopping needs. Includes 13 Professional Knives, kitchen scissors, bonus peeler, a premium quality 2-stage knife sharpener and a modern knife stand. A true cutlery organizer!

PROFESSIONAL QUALITY AT ITS BEST – The best materials to update your cooking! This stainless-steel knife set gives you superior blades coated with nonstick paint plus ergonomic PP handles. Sharp, sturdy & practical. No rust, stains or pitting here!

A MULTI-PURPOSE KITCHEN DÉCOR MUST – A perfect mix of design & practicality, featuring knives for all purposes: carving knife, utility knife, cheese knife, pizza knife, chef knife, bread knife, paring knife, steak knives. Excellent precision cutting!

ONE OF A KIND STAINLESS STEEL KNIFE SET – Home Hero brings together a unique mix of quality sharpness, great value, durability & professional crafted accuracy. Now anyone, newbie cook or master chef can enjoy cooking much faster, easier, cleaner.

CUSTOMER SERVICE – Please, if you have any questions or issues regarding the Home Hero knife set please do not hesitate to send the seller a message through Amazon we will respond within 24 hours.
Vendor Information
Vendor:

admin

4.72 rating from 18 reviews